Nature Beauty Of The Extreme At The Peninsula and Cape Good Hope…
By
I woke up to another beautiful Cape Town morning sunshine. Its funny isnt it on how the bright sunny sun could really change your moods to the better
Now today is going to be another great day. I had booked a full day tour to the Cape Peninsula and Cape Good Hope. I've had loads of recommendations about this trip and now I am just hours away from witnessing it myself
I had my shower and dashed downstairs at the hotel restaurant for my breakfast – just like what I had been doing for the past 2 days here.
The food was fine. Well, you know the drill, coffee, tea, omelette, croissant etc.
But today it was slightly different. Nothing too major but different.
I had managed to have a quick chat with this British couple whilst I

was in the queue waiting for my turn to order my freshly made cheese omellete – and you know, we talked about the weather, places and stuff like that. They were at the front of the queue so for obvious reasons they would get their omellete before me. I am not being childish here
Anyway, that wasn't the interesting bit.
OK, do you want to know the rest of the story….
If it a yes, then I must warn you that if you are a bit squemishy type of person to try not to read the next paragraph and skip it to the next one.
I had told this story to many of my friends especially the girls and most of the instant feedbacks I had was a shrieking `Euuuuueeeeewwwww`.. LOL
OK, this is the story….
I turned my head briefly towards the chef . What I saw was nothing peculiar..I mean the chef was pretty oblivious with us who was standing and waiting in front of him. I mean surely he wouldn't be able to cook if he continuously stared at us, right….. Duh!
Anyway he took 2 eggs from its box, cracked it open and out came a slimy 'incomplete' chick with feathers here and there. The guy whom I was talking to went blue and he quickly walked away along with his wife.
As for me, I felt rather sick and I could almost feel my vomit. Luckily, I had managed to control my thoughts and tried to think of the mouth watering food at The Ivy.
Realising the drama the chef had caused, he quickly grabbed a spatula and slid the 'mess' straight down his bin.
I didn't cancel my order. I was hungry and I wanted the omellete real bad. You probably think that I have gone absolutely bonkers but I really do love omelletes.
Anyway, it finally came and I took it to my table. It tasted real good but I had to ensure that there wasn't any 'bits' that wasn't supposed to be there. If you know what I mean….
And yes, I definitely wouldn't want it to end up in my mouth…EEEEuuuuueewwwwww
After breakfast, I went directly to the hotel lobby to wait for the tour man. This time it was quick as I didn't have to wait too long. I think it was 10 minutes or so.
He was a nice and friendly and walked me to the van. Honestly, I know it's bad but I seriously could not remember his name.
The van was packed with tourists like me
and not to my surprise, it was full with the Brits.
I got in and sat at the back. There was not much of a choice really. I was the last one to be picked up and it also marked the beginning of our journey for one whole day today
…
Our next destination was Clifton and Camps Bay. Whilst we were on our way there, I befriended this lovely young lady named Zoey. She works for Virgin Atlantic and instead of going real bored staying at the hotel, she decided to go on a tour and guess what, she met me
LOL …It's fate you know..
Anyway, we started yapping about things and in just 10 minutes, we had arrived at Clifton. Clifton was the place I went to yesterday for that beach party. It's an amazingly posh residential area. You have some real well off people living here.
It is rumoured that David Beckham has a home here…and the ever so camp – Graham Norton
Luckily we didn't stop. Instead we just enjoyed the view.
We stopped at the Twelve Apostles. It was really really spectacular. Weather was perfect. I loved it.
Here is my photo that Zoey took for me.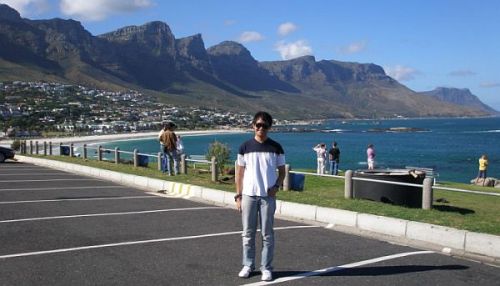 and here is the video showing you the surrounding areas,
<script src="http://flash.revver.com/player/1.0/player.js?mediaId:582482;affiliateId:117572" type="text/javascript"></script>
This next video also shows you the surrounding views of the Twelve Apostles but if you look real close, you will see a pool. Now that is not some ordinary pool.
The reason I say this is because there is no pipes to fill the pool up with water.
You see, when the sea rises, the pool gets completely flooded with cold sea water and when the sea subsides, the pool gets filled up.
People here would then wait till the water gets slightly warmer before they jump in and have a jolly good time.
Cool eh
You can save a lot of money from the water bills..
This also explains that the sea water here is not for swimming. It's just a friendly reminder to you guys so that when you do get here, try not to be so hasty to take everything off and swim. You might get some sudden respiratory problems or something Hehehe
I did warn you
However, there are many places in Cape Town that people can go swim but they are mainly on the other side of the Cape.
Quick reminder though, it is also shark infested…… well maybe baby sharks..dont wants us all to get paranoid like me
<script src="http://flash.revver.com/player/1.0/player.js?mediaId:653454;affiliateId:117572" type="text/javascript"></script>
We continued our tour heading towards Hout Bay after about 15 minutes at the Twelve Apostles. The journey was simply divine as we were driven via the coastal roads of Llandudno. Gorgeous…
OK, I think this blog chapter is getting longer as we speak so before I start to blab any further, I am going to separate it into different chapters so it makes it easy in the eye and easier for you to enjoy and read my blog
Related Posts You Might Be Interested To Know..