Sun City Was Way Super Cool!
By
I walked straight towards one of the supercool buildings here. I didn't know what this building represents but it looked fab to me! It was better to be inside than the outside cause I'm telling ya, its super hot outside in the heat. You could possibly boil some eggs here on the pavement!
It was nice and cool inside the hotel lobby and the whole decor and ambience was amazing. In fact, the casino was right in front of me! They even had some slot machines in the lobby! Hehehehehe
Now the thought of playing the slot machines were definitely tempting! I asked for directions at the concierge and he directed me to the main hall where the casino was situated. I am not a gambler and I don't even know how to play 95% of the gaming stuff but I always love playing the slot machines. I also know deep in my conscious mind that all the machines are computerised and rigged anyway but who cares eh! I wanted to have fun man
The casino wasn't so bad after all. There weren't many people there. It was still noon time and you wouldn't expect many people to be here at this time of the day. Wait till it's past dinner time and I'm certain this place would be packed like a can of sardines 
The gaming system here was quite unique. I had to go to the cashier and pay. In return. I'd get a 'debit card' with my money installed in it and all I had to do was slot the card inside any machines I want and play. All winnings and losing would be credited into the card.
Hmmmmm sounds dodgy to me. That means the system would know my activities even if I decided to move to a different slot machines. But what the heck, it's for fun. I knew I was going to lose anyway so why not enjoy losing…LOL
I sat next to this lovely lady and started to chat her up. She told me that her husband runs a diamond business and to pass time, she makes the constant commute to Sun City and gamble. Hmmm not bad if you asked me…errr only if you can afford it and you have endless abilities to withstand the pressures losing a ton LOL.
I knew it…I knew it.. it took less than an hour before my credit diminished. Why did the house never let me win
Hehehehe
I thought that was it. Let me roam about the whole place and play again later in the day.
I left the casino and encountered this huge fancy ballroom. I thought I must tell you all about it on video.
Here's the photo of the ballroom I talked about in the video. The picture would not give it justice, to be honest. The ballroom was more fab in reality.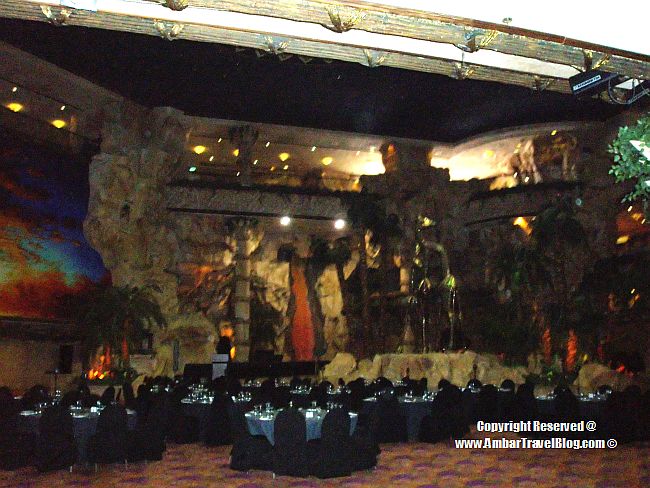 I then walked outside and was pleasantly surprised by what I saw. There were a bunch of stone carved elephants lined up in a straight line. There were many other 'animal's here too. I guess it symbolises AFRICA
In the video below, you'll get to see the elephants or normally known as 'The Bridge Of Time', The Wave Pool and the most magnificient Palace of The Lost City. A Must See!
If you did watch the video then you'll understand that I had edited it so that it would give you an overview of the whole place including The Palace of Lost City. But, if you'd like to see the bit by bit storyline then here it is.
Below are pictures within the perimeter of The Bridge Of Time.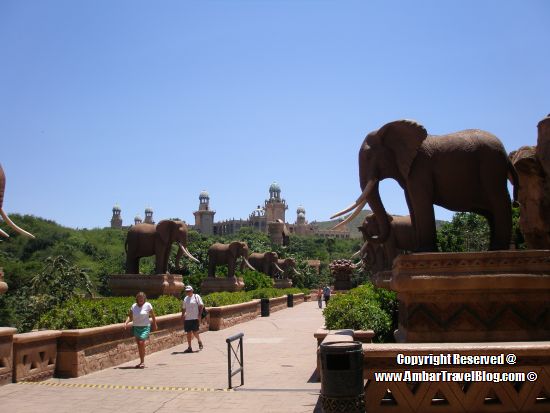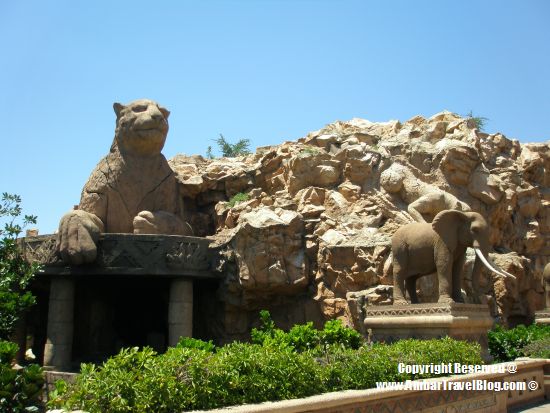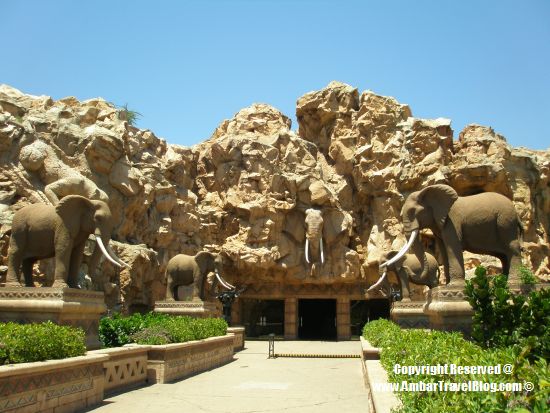 Not too long after that, I saw this atrium which I thought was worth to be photographed for. Don't ask me why I snapped it. I just thought it was cool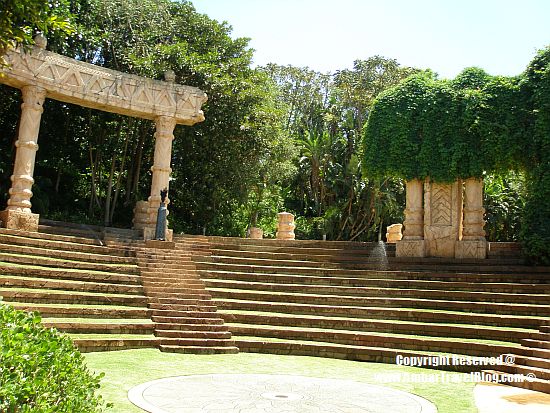 And next to this atrium was this huge fancy pants wave pool. I tried to resist it but failed miserably. I had to go in and dip in. No time for procrastinations. The weather was hot and it's darn one good excuse to stay cool
This is the wavepool.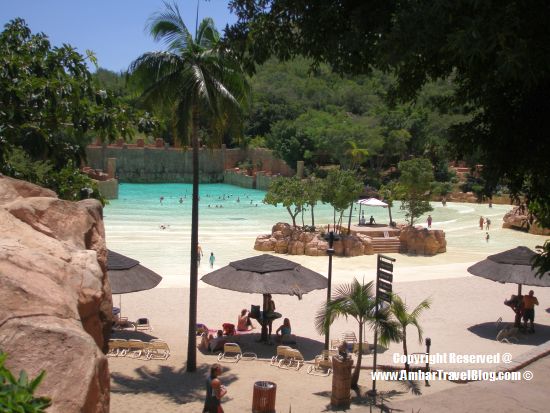 I ended up playing at the pool with the rest of the South Africans for more than an hour and half. They had fake sands and all – just like being by the beach! I'm telling ya that it was great fun and the skin on my hands were all shrunked up the minute I got out of it. LOL
Here's the video after the great dip
The Palace of Lost City was really something. I thought it was worth the 3 hour drive to get here and be able to witness the building. The architecture was out of this world and looked totally unreal in a dry deserted land! They even made this glorious waterfall and beautiful water feature surrounding it.
I think this building made Sun City worth coming for – even if you're not a gambler. and yes, you must try staying here for a night or two. Unfortunately, I didn't stay the night here as I wasn't planning to come here in the first place but if I was given the opportunity to do so now that I was in Sun City, I would not even think for less than a second. The place is superb. First class decor and service everywhere. Definitely, a good place to relax and get all the pampering you want in South Africa
Ok, before i forget here are two pictures of The Palace of The Lost City. You can also watch it on video. Just click play on the first video if you haven't done so already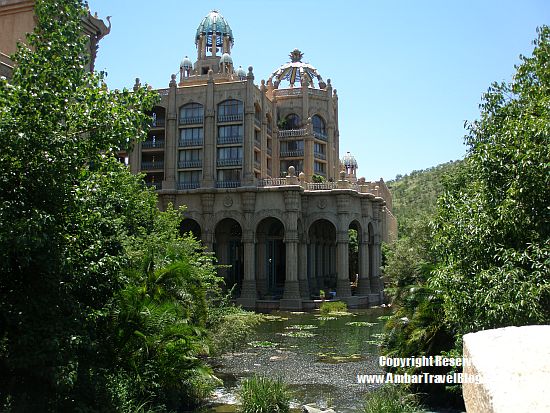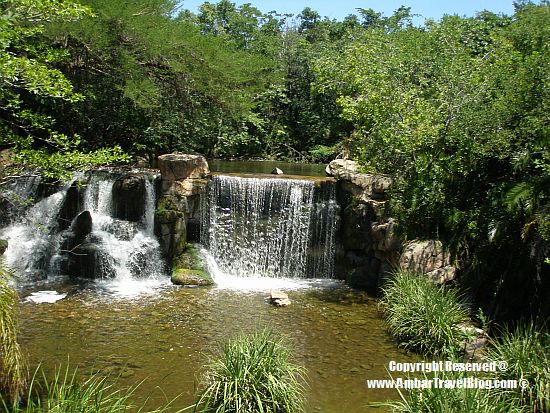 It was about 4PM or so when I was done touring this place. My stomach was grumbling. I didn't have lunch yet so now it's munchy munchy time at the fancy casino restaurant
Next trip – Back to the casino!
Related Posts You Might Be Interested To Know..