Totally Unbeatable Views of Hout Bay, Chapman's Peak and Noordhoek (Part 3)
By
If you have been following me around on my travels via this video travel blog for any duration of time, you can probably tell that I am not usually a serious person.
I like to joke around and have fun anytime, anywhere and whenever possible
But what I am about to tell you is seriously, I believe is my most sincere opinion about this place.
Now here's the review
"I have never been to such a beautiful place in my life. This part of Cape Town totally blew me away! "
by Ambar Hamid
Now, you may use that testimonial anywhere if you like.I'm sure whatever it is you're selling will be gone in just minutes.Total sellout…Hahahaha
But seriously guys, this place is amazing. In fact, amazing is probably an understatement. It is far more than that. The beauty is totally unreal and I am still in awe of its beauty to this very day…
OK, let's go back to the blog shall we? We don't want to get too carried away here…or is it just ME?
The journey to Seal Island was simply divine and as soon as we arrived back on the mainland, we immediately hopped on the van to go to our next destination and that was Chapman's Peak Drive.
To my surprise, it was only minutes away from Hout Bay. Not wanting to miss any opportunity to record every moments of the day, I quickly took out the camera from the bag and within seconds, I am all set to go, ready to shoot and record to my heart content
But most importantly, allow me to officially show you my entourage..
Yes, I am indeed a full blown DIVA-man..LOL
<script src="http://flash.revver.com/player/1.0/player.js?mediaId:668634;affiliateId:117572" type="text/javascript"></script>
The backdrop on the video is actually Hout Bay. Think of it like an overly humungous blue lagoon.
Here is the picture of Hout Bay taken from Chapman's Peak..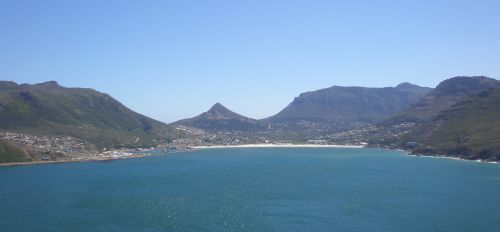 Of course when it comes to beautiful scenic view, I gotta be in it..so here is my picture with the gorgeous backdrop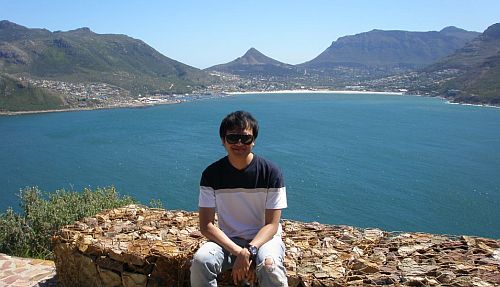 another picture of Hout Bay,
One last photo for you. This picture is interesting because if you take the
magnifying glass out, you can clearly see Seal Island in the far horizon..
Can you see it?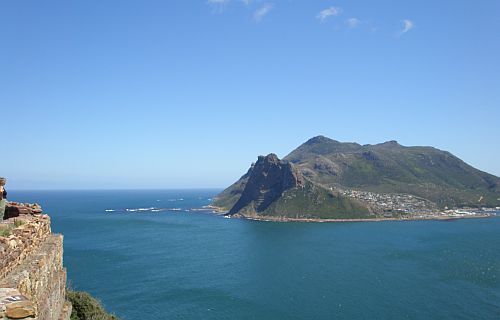 The tour man who I now remember as Martin, is a very kind man and he never stopped in giving us valuable tourist information about everything that there was to know about our trip. He's like a knowledge bank filled with unstoppable stream of exciting data that you could never get enough of. It was all sooo exciting…
Our next stop was the Ostrich Farm and throughout the journey, we were driven via the Noordhoek coastline route.
I must tell you. It was really something. Simply put, I didn't know the real definition of 'Beautiful' till I saw this…
<script src="http://flash.revver.com/player/1.0/player.js?mediaId:668731;affiliateId:117572" type="text/javascript"></script>
We also stopped by this spot where Martin started telling us about the story of the whales. It's kind of interesting.
Now, if you do watch the video below you can immediately spot a whale in cement
…and of course you get to learn more about whales and orcas too..
so hit the play button. You know its a fair deal
<script src="http://flash.revver.com/player/1.0/player.js?mediaId:729236;affiliateId:117572" type="text/javascript"></script>
I think the South Africans are sports mad bunch. They love the outdoors. I mean who can complain, – weather here are just so good and lovely.
I did see people jumping off Table Mountain to paraglide down the slopes and this happened as I was walking back towards the hotel yesterday. I thought it was keeewwwwlll.
Anyway,
I couldn't help but to press the record button and show you a bunch of people having fun paragliding at the beach.
Here you go (video is a bit shaky though
)
<script src="http://flash.revver.com/player/1.0/player.js?mediaId:733090;affiliateId:117572" type="text/javascript"></script>
Related Posts You Might Be Interested To Know..